Artists

Ned Wert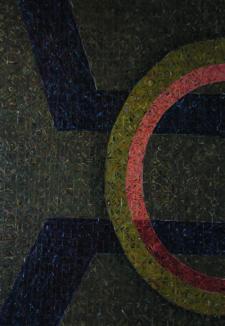 "My work has always been characterized by loose brushwork and a strong use of color. The result is spontaneous but the patterns of nature and cultural heritage are an underlying structural element. The color is often brilliant, immediately accessible and applied in a direct and personal manner. I use color both impressionistically and expressionistically. I admit to the influences of Jasper Johns, Mark Tobey and Paul Klee, as well as Jack Tworkov and Alex Katz, with whom I've studied. My work is simply a way for me to enjoy putting color over color."
Seeing, experiencing, imagining. For more than four decades, Ned Wert has been producing abstract paintings based on his travels—to Mexico and Central America, Africa, Europe and Asia—and finding inspiration through his personal observations, his drawings and sketches produced on site, and hundreds of photographs. The resulting work invites the viewer to interpret the images, sometimes finding hints of reality, sometimes not, but always being challenged to think. Wert believes strongly that his work should be open to individual perceptions:
"If I tell the whole story, I leave out any opportunity for interpretation, and I think art must be a vehicle to communicate."
Conceived to engage the spirit and emotions of the viewer, Wert's paintings are generally large, defined by vivid color and energetic brushwork. They are strong, yet subtle, and filled with movement, depth and emotion. They are always brave, confident and assured.
Retired from the faculty of Indiana University of Pennsylvania. Wert has exhibited widely throughout the United Stateds and Europe.
Education
Creative Art Studies, Lucca, Italy
Post Graduate work, Photography and Television Production, Indiana University, Indiana, PA
Blossom-Kent Art Program, Kent State University, Kent, OH
M. Ed, Art Education, Pennsylvania State University, State College, PA
B.S. Art Education, Indiana University of Pennsylvania, Indiana, PA,
Partial Listing of Exhibits
Lynden Gallery, Elizabethtown, PA
Lancaster Galleries West, Elizabethtown, PA
Dover Art League, Dover, DE
Gallery on the Square, Millersburg, PA
Community Gallery of Lancaster, PA
Gualt Gallery, Slippery Rock University, Slippery Rock, PA
Bird-in-the-Hand Gallery, Sewickley, PA
Olin Fine Arts Gallery, Washington and Jefferson College, Washington, PA
Delaware State College, Martin Luther King Center Gallery, Dover, DE
Pittsburgh Center for the Arts, Pittsburgh, PA
Sloan Gallery, Lock Haven, PA
William Ris Gallery, Camp Hill, PA
Lebanon Valley College, Annville, PA
Messiah College, Grantham, PA