Fred Rodger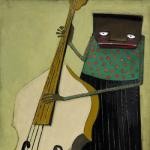 images
Born in Aliquippa, Pennsylvania, Fred grew up in Lititz and continued his education at West Chester University to graduate in 1970 with a B.S. degree in biology. Teaching that subject for a number of years, as well as coaching wrestling and golf at Lampeter Strasburg High School, he decided to change his career following the death of his good friend, artist David R Brumbach in 1992. He enrolled at Millersville University to receive his certification in art education and became an art instructor at Lampeter Strasburg High School until retiring in 2004. He went on to teach Art History, The Renaissance Period, at Harrisburg Area Community College, Lancaster Campus, from 2003 to 2006.Working mostly in acrylics, but occasionally in mixed media and collage, he paints in a style that could be termed
sophisticated primitivism
. Inspired by modernists such as Paul Klee, Richard Diebenkorn and Willem de Kooning, he paints to explore whatever ideas he may make of the simplest everyday objects. Some of his themed body of works includes
Guys Doin' Stuff
,
Boys in the Band
,
Animals in My Sofa
,
Spirit of the Soil
,
Nocturnal Landscapes
,
Guy's Doing Dangerous Stuff on Bicycles
,
Altarpieces
,
Cathedral
series and his revisit to the jazz musicians
The Boys in Concert
,
The Texture of Tuscany
,
Kings, Queens, Squires, Damsels and Dukes
,
Impressions of Cinque Terre
and recently
The Migration
series. After he retired from teaching for 33 years, Fred enjoys painting, mostly from his backyard overlooking the farmer's fields and cows, at his Strasburg, PA home and studio. Fred has been exhibiting at the annual Outdoor Art Show at Cape Henlopen, Rehoboth Art League's summer event, since 1994. He enjoys bicycling, riding his motorcycle, visiting Italy, kayaking and the beach.