Artists

Milt Friedly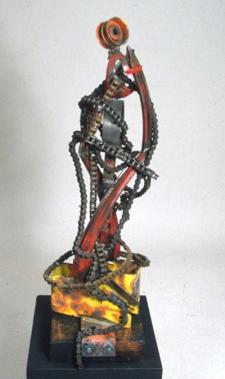 "For me, art is a process of working intuitively with form and design through the unconscious to express my experience and sensibilities—I then make conscious decisions as the work evolves. There is a dichotomy between the two that gives me the freedom to express the moment."
Milt Freidly's childhood, spent fishing and camping along the Shoshone River, the Clarksfork, Sunlight Basin and in the Absorkee Range of Wyoming, was instrumental in shaping his aesthetic explorations in art. Drawing inspiration from the textures, shapes and colors of the desert, high plains and mountain ranges, his work has taken many forms—clay vessels, hand-pulled monoprints, mixed media, welded and cast sculptures.
Freidly began his art studies at Cody High School, Cody, Wyoming where he was a member of the Jackson Pollock Art Cult. He attended Northwest College and completed a Bachelor of Fine Arts degree at the School of Art, Arizona State University. In 1985 he completed a Master of Fine Arts degree at the University of Wyoming. Currently, he is Professor of Art at Elizabethtown College.
Milt's work has been included in exhibitions nationally, including the Yellowstone Art Museum, Billings, Montana; the Nicolayson Art Museum, Casper, Wyoming; the San Angelo Museum of Fine Arts, San Angelo, Texas; the Doshi Center for Contemporary Art and the Pennsylvania State Museum, in Harrisburg, Pennsylvania; the Clay Studio, Philadelphia, Pennsylvania; the Gallery of American Craft, Millville, New Jersey; the George Krevsky Gallery, San Francisco, California. His work is held in a number of public & private collections throughout the country.
Milt Friedly is represented by the Lynden Gallery, Elizabethtown, Pennsylvania.
Education
M.F.A., The University of Wyoming, Laramie, WY
B.F.A., Magna Cum Laude, Arizona State University, Tempe, AZ
A.A. Northwest College, Powell, WY
Partial Listing of Exhibits
2006: Lynden Gallery, Elizabethtown, PA
2006: The Susquehanna Art Museum (the Doshi Gallery), Harrisburg, PA
2004: Hub-Robeson Gallery, Penn State University, State College, PA
2003: The Hess Gallery, Elizabethtown College, Elizabethtown, PA
1996: The Lyet Gallery, Elizabethtown College, Elizabethtown, PA
1996: M. Louise Aughinbaugh Art Gallery, Messiah College, Grantham, PA
1993: The Community Gallery of Lancaster (Presently The Lancaster Museum of Art), Lancaster, PA
1992: The Cultural Council of Lancaster, Lancaster, PA
1991: The Kauffman Gallery, Shippensburg University, Shippensburg, PA
1989: Sloan Fine Arts Center, Lock Haven University, Lock Haven, PA
1988: The Atrium Gallery, Govornment City Center, Harrisburg, PA
1985: Gallery 234, the University of Wyoming, Laramie, WY
1983: The Art Space, Laramie, WY
Awards
1999: First Prize, "Coveting the American Coin" The Gallery at Open Stage of Harrisburg, Harrisburg, PA
1997: Honorable Mention, 3rd Great Plains National, Moss-Thorns Gallery, Fort Hays State, University, Fort Hays, Kansas
1992: First Prize, Statewide Juried Show, Elizabethtown College, Elizabethtown, PA
1990: Certificate of Excellence, Soho International Art Competition, the Ariel Gallery, Soho, NY George Tomko Juror
1986: Juror's Award, 12th Annual all Wyoming Craft Show, the Nicolayson Art Museum, Casper, WY
1986: C.W.C. Purchase Prize Award, Fourth Annual Arts Center Exhibition at Central Wyoming College, Riverton, WY, (Juried Regional Exhibition)
1985: Art in Public Places Commission, A National Competition Awarded to Milt Friedly and Billie Gross for their work, Mountain Sanctuary, a permanent environmental landscape for the Wyoming Pioneer Home in Thermopolis, WY
1983-85: Teaching Assistantship, the University of Wyoming, Laramie, WY
1981-83: Board of Regents Fine Arts Scholarship, Arizona State University, Tempe, AZ