Christiane David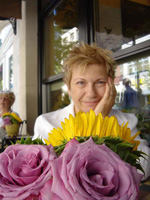 "As life is a journey, my art is my vehicle and I see my work as milestone expressions. Using watercolor and oil I emphasize the nature of the color more than the nature of the object itself. In my abstract painting I completely eliminate the subject to concentrate on color, shape and rhythm, a painterly exploration and an attempt to capture the soul essence of life."
Christiane David was born an artist and became a painter. Born and raised in Brussels, Belgium, Christiane started to paint at the age of six. Her first news article was at the age of seven/eight, painting in front of the lion in Waterloo.
Christiane first pursued a degree in Architecture in Brussels wherein she subsequently turned to a career as an interior designer. Meanwhile she continued her studies in oil and watercolor at the Academy of Art of Brussels; rubbing elbows with painter-disciplines of Belgian painters, Paul Delvaux and Rene Magritte.
Pivotal to her effervescent and magnificent expression of light and color, she had contact with many other European impressionists. Many of whose attitudes and technique's form the underpinning for the contribution to the canvas that her brush achieves as the eye to her very soul. The artist reveals glimpses of time, enveloping rather than defying the flatness of the canvas effectively and stunningly emphasizing her ability for color, light and for capturing the soul of the subject rather than just the subject itself.
In 1985, she moved to the United States with her husband and daughter. Christiane continued to produce paintings and in 1996 she opened her first gallery in the Artworks at Doneckers in Ephrata. After eight years, she moved to Lancaster to obtain a gallery as grandeur as her paintings. Today you can find her painting and greeting customers at her new gallery on 142 North Prince Street.