Reed Dixon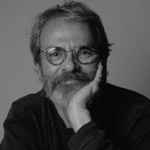 WHAT I DO...
What I do is imagery. By that I mean the end result is not necessarily a study of the subject, but how I feel or think the image should look in the end. I arrive at that image most of the times when that little art voice in my head says "STOP".
I have always had the need to experiment with materials. Paints, colors textures and most of all imagery or (subject matter). I'm never short on inspiration to capture what inspires me.
I think anyone who calls himself an artist owes it to society and themselves to experiment with their art, their souls, and their very being. It will keep them moving on to that next level, the next horizon of creativity.
An old (and getting older) friend of mine once told me there are no rules. I tend to believe him.
Dixon, a native of Pittsburgh, PA studied graphic design and fine arts at the prestigious Art Institute of Pittsburgh, class of 1964. At the ripe age of 19, Reed was hired by Hallmark Card Company in Kansas City, MO as an illustrator and stayed with them for about 6 months. He had 13 cards on the market in that time. In 1965 Reed moved back East to Hershey, PA and worked in the ad business for several years. In 1972 Dixon became a Senior Advertising Designer with Armstrong World Industries. In 1977 he opened Dixon Graphics, a graphic design / advertising and fine arts studio and has been freelancing ever since.
Reed is well known for his non-traditional style and color pallet, and for his unusual subject matter and sense of humor.
Through the years his work has been chosen to exhibit at the Society of Illustrators Show in New York City and for the Communication Arts Illustration Annual. Reed has Exhibited his art widely throughout the Eastern United States and has contributed numerous illustrations to magazines and children's books.
For you local folks, you may be interested to know that Reed and Bruce Johnson started the almost world famous Mount Gretna Outdoor Art Show in 1975.
Reed is now semi-retired and pursing with great vigor a career in fine arts full time at his new "Studio Luna" in Lititz
Reed lives in Lititz, PA with his wife, the very talented interior designer Kathi Kermes Dixon and their cat Razzie.